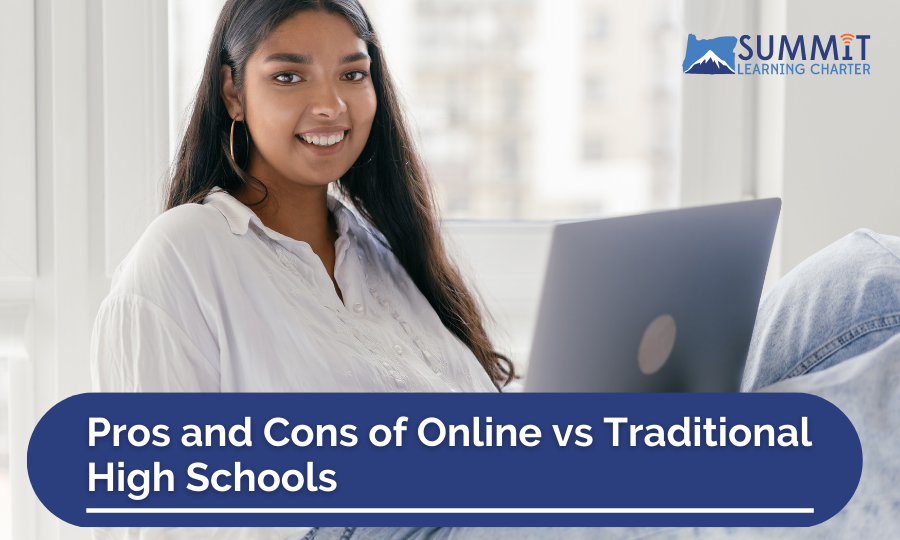 Pros and Cons of Online vs Traditional High Schools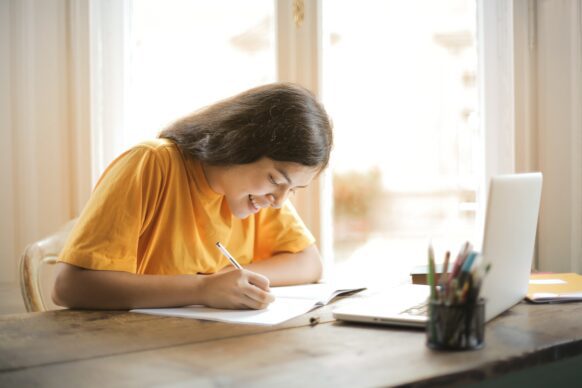 It's no secret that the growing popularity of virtual learning is revolutionizing education for students of all ages. With comprehensive curricula, experienced instructors, and unparalleled flexibility, more students than ever have the opportunity to get a quality education from an accredited high school in the comfort of their own homes.
But how do you know if online high school is right for you? Keep reading to learn about the pros and cons of online vs traditional high schools.
Is Online High School Right For You?
While online high school is designed to be accessible and flexible, it doesn't work for everyone. Some students thrive in traditional, in-person-only environments and switching to a virtual academy may not provide the type of structure they need.
However, virtual learning is ideal for many students, and can provide the personalized instruction and flexibility they need to succeed academically. Online high school may be perfect for you if:
You're self-motivated

You have nonacademic responsibilities that conflict with standard schedules

You want to learn at your own pace

You have a physical disability that makes in-person school difficult or impossible

You want to have more control over your class schedule

You're facing barriers to commuting to school

The social aspects of high school are impeding your learning

The one-size-fits-all approach of traditional school doesn't work with your learning style
1. Scheduling Flexibility
Traditional learning environments require students to attend classes during regular school hours. Online high schools, on the other hand, generally offer much more flexibility in terms of scheduling and lectures. This makes online school an ideal choice for students who have jobs or other responsibilities and activities.
2. Personalized Learning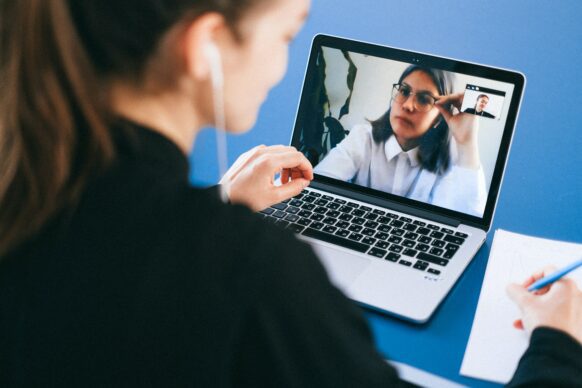 Everyone is unique. Traditional schools generally have a much more standardized, one-size-fits-all approach to education. But students have different learning styles, preferences, goals, and interests. Virtual learning is designed to allow students to use their individual strengths and take an active role in their own education.
3. Time and Cost Effectiveness
Online school gives high schoolers options in terms of how and when they learn. While the logistics of traditional schooling generally require an entire class to move through the course material at a set pace, online school allows students to pace themselves and spend more time on the material that is most challenging or interesting for them. Online high school also tends to be more cost-effective and affordable.
4. Self-Discipline
Because of the increased flexibility offered by online school, it's important that students have the self-discipline necessary to get their coursework done and adhere to deadlines. It can be helpful to set a designated schedule for school work and make sure you stick to it. It's also important that parents are prepared to take on the responsibility of setting academic expectations and supervising the progress and activity of their students.
5. Sociability and Group Work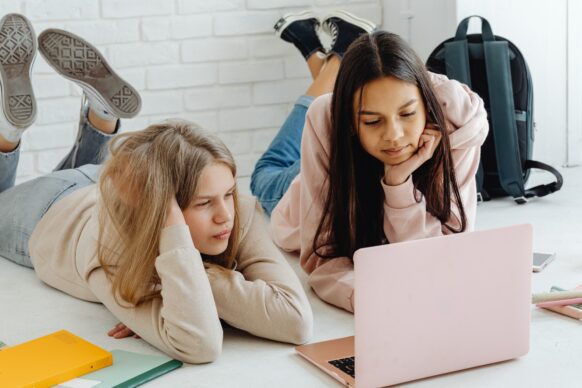 Contrary to popular belief, many virtual academies provide a wide variety of opportunities for socialization, group work, field trips, and extracurricular activities. However, unlike traditional brick-and-mortar schools, high schoolers and parents have much more control over when and how students participate.
6. Accredited and Experienced Instructors
Just like traditional schools, online high schools are subject to an accreditation process, which is designed to hold academic institutions to certain standards that are recognized regionally or nationally. For example, Summit Learning Charter is fully accredited by Cognia – a non-profit organization that provides accreditation in the US and abroad. Just like with traditional schools, it's important to seek out a virtual academy that employs experienced and involved teachers, academic counselors, and other faculty.
7. Tuition
Many people don't consider online options because of the misconception that they come with costly tuition fees. However, while some private online schools require upfront or ongoing tuition payments, many online schools are completely tuition free – just like traditional public schools. As long as you find an accredited online school, you can receive a quality education without any tuition.
8. Parental Involvement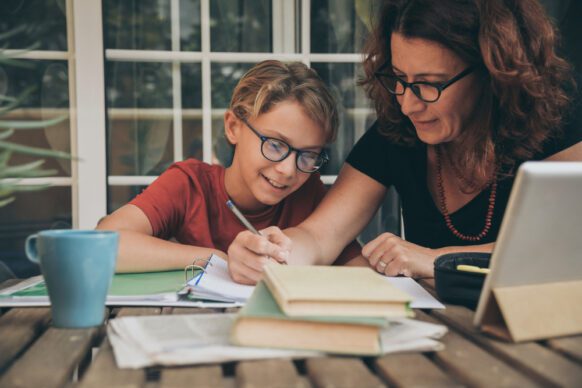 In traditional high school, parents have often been on the outside looking in. Most parents want to have meaningful involvement in the academic lives of their children and in-person schooling can come with barriers that prevent this type of collaboration.
Online high schools offer parents the unique opportunity to be more involved in their childrens' education than ever before. In the world of virtual learning, parents take a more active role in setting realistic educational expectations and providing structure and supervision throughout the school year.
9. Technology
It's no surprise that technology is at the core of online education. As we move into the future, the professional world is becoming more intertwined with technology, and virtual education has the ability to deliver information that is relevant to modern society.
Online schools can offer advanced technology and online tools to aid in providing a collaborative and enriching education experience that truly prepares students for the future. 
10. Health and Safety
High school should be a safe and nurturing environment for students that contributes to their healthy development and keeps them safe and secure at all times. Unfortunately, this isn't always the case. 
While most schools are fully committed to the health and safety of their students, there is always some risk of illnesses, exposure to drugs or alcohol, peer pressure, and even violence in an in-person environment. Online school provides parents with a much greater degree of supervision compared to traditional high school.
11. Student Performance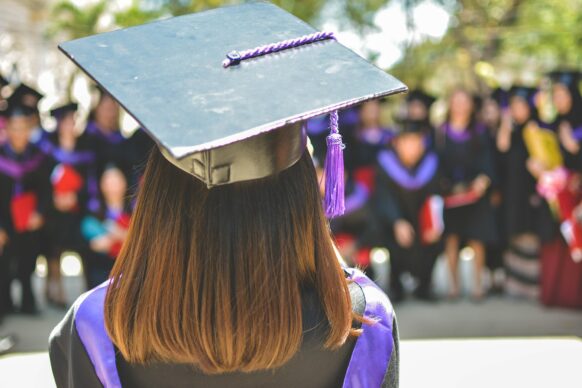 Contrary to common belief, students who learn virtually are just as successful in school and after graduation as those who attend school in person. Recent research indicates that 75% of academic leaders believe online learning is equal to or preferable to traditional schooling, while 85% of students who have tried both in-person and online courses prefer the online format.
Graduation rates at online high schools are exemplary, as well. For example, at Summit Learning Charter, we've consistently maintained a graduation rate between 94% and 96% since 2018, which beats the national average of 88.6%.
12. Distractions
Distractions can be a concern for both online and traditional high schools. However, virtual learning gives you the opportunity to tailor your environment to your specific needs. For many students, especially those with anxiety or ADHD, traditional classrooms can create unnecessary challenges due to the inherent distractions of the environment.
If you struggle to focus during in-person lessons, online school can give you the ability to manage your environment with the help of an invested parent or guardian. It also offers greater balance between your schooling and social life.
Get In Touch With Summit About the Virtual High School Academy!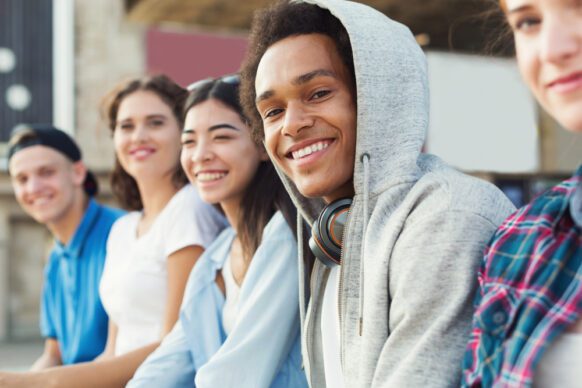 Students, parents, teachers, and advocates agree that online learning is the future of education. With more and more Americans working remotely, online school gives high schoolers the opportunity to learn the skills they'll need to excel in fast-paced careers that require self-discipline and flexibility. 
Summit Learning Charter is a tuition-free online K-12 public school that's fully accredited by Cognia. Our virtual high school academy program is designed to offer students the unique ability to take an active role in their own education. We have over 200 classes in each of 3 comprehensive curriculums, and we work with each student and their family to create a schedule of core classes, electives, and enrichment opportunities that help them achieve their individual goals.
Learn more about academics at SLC and contact us to get your questions answered.