Summit Learning Charter 2019 Graduation Ceremony
June 11th 2019, 6:30 pm
Rolling Hills Church
3550 SW Borland Road
Tualatin, Oregon 97062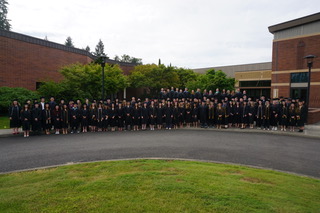 **If you are a graduating senior attending Chemeketa Community College, please call Amy Griego  (503) 630-5001, ext 2238 for graduation instructions.**
If you are planning on participating in the SLC graduation ceremony, please Email Lyn Woodruff
*January 11, 2019 – Your legal name as it should appear on the diploma/program.
*March 22, 2019 – Confirmation that you have ordered your cap/gown/tassel through Jostens for those participating in the graduation ceremony.
*Students are responsible for ordering and paying for their own cap/gown/tassel (see detail below*).
MORE IMPORTANT DETAILS TO KNOW:
FINAL REMINDERS FOR SUMMIT LEARNING CHARTER STUDENTS:
*June 7th – Deadline for completion of all Virtual Academy course work for graduating seniors.
*Check with your advisor NOW regarding any final details that you may need to take care of to ensure you are on track for graduation.
Cap & Gown:

*The FINAL deadline for ordering your cap and gown is March 22, 2019!
*Cost is $37.95 (this includes shipping to the Eagle Creek office).  Click here for order form. Payment must be made directly to Jostens with this form (not our office).
*Jostens will send the cap, gown and tassel sets directly to the school office. You may pick them up at the school office after June 1st, between 8 am and 3 pm.  If you are interested in ordering other items through Jostens, such as announcements, class rings, etc., you are welcome to do so at your own expense on the Jostens website.
*Graduates may decorate their caps for the graduation ceremony. Mr. Gallagher, Principal, will be checking each one to make sure that they are appropriate – if your decorations are not appropriate, you will not be permitted to continue to participate in our ceremony.
SENIOR VIDEO:
*Please email a baby photo and a current (senior) photo to Jason Deardorff for our senior video to be shown at our graduation ceremony.  Please be sure to have your pictures in JPEG format.  You need to name each file with YOUR NAME in it – For Example, "JaneSmith1", "JaneSmith2", etc. to jdeardorff@summitlc.org
*Photos sent after Friday, May 24th will not be used in the video.  SLC reserves the right to edit or omit any submissions.
GRADUATION DAY:
*June 11th – Graduates participating in the ceremony need to arrive at the Rolling Hills Church by 4:45 pm to have a rehearsal, receive final instructions for the program, class photo and get lined up for the procession.
PLEASE DO NOT BE LATE – We make every effort to start on time!
*Please dress in attire appropriate for the ceremony – no shorts – slacks/nice jeans, dress, skirt are appropriate attire.
*A photo of the entire class will be taken at 5:15 pm.
*From 5:30 – 6:30 pm, graduates will be lined up and given final instructions for the procession.
*Virtual Academy students – bring your laptop to turn in at the ceremony and you will receive your diploma after the ceremony. Early college students' diplomas will be processed after you turn in your grades.