TRAILS ACROSS TIME Living History Immersion Program: A 21st Century Education in a 19th Century Environment!
Our school is teaming up with the Philip Foster Farm National Historic Site to offer you a unique learning experience!
Students must be enrolled in Summit Learning Charter (SLC) to participate in this program.  If you are not a currently enrolled SLC student, you must fill out the complete school enrollment application on our "Apply" button (upper right corner) or click here.
COMPLETE CURRICULUM:
Hands-on, history-centered unit studies and online classes combine to provide a complete program for 6th-12th grade.
RIGOROUS EDUCATIONAL STANDARDS:
Social Studies, English, Arts and Crafts, Music, Science, Math, and job skills are graded according to common core standards for your student's grade level. Skills are demonstrated through portfolios and real-world presentations.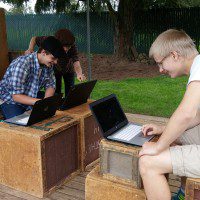 FUN, CHALLENGING LEARNING ENVIRONMENT:
More than a pioneer school – students are immersed in a pioneer life! In addition, they practice key customer service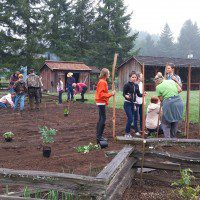 skills related to the operation of a modern non-profit. Mixed-age teams of 8-15 students work together to preserve and explain the history they study. The students will also learn the value of responsibility while being part of this unique team.
STUDENTS CHOSEN FOR THIS LIMITED PROGRAM MUST HAVE:
1) Internet access
2) Ability to attend class in Eagle Creek two days per week
3) Desire to be a positive role model for younger students
Questions? Please email 
Ms.Elaine Butler
  or give her a call at 503-341-7256