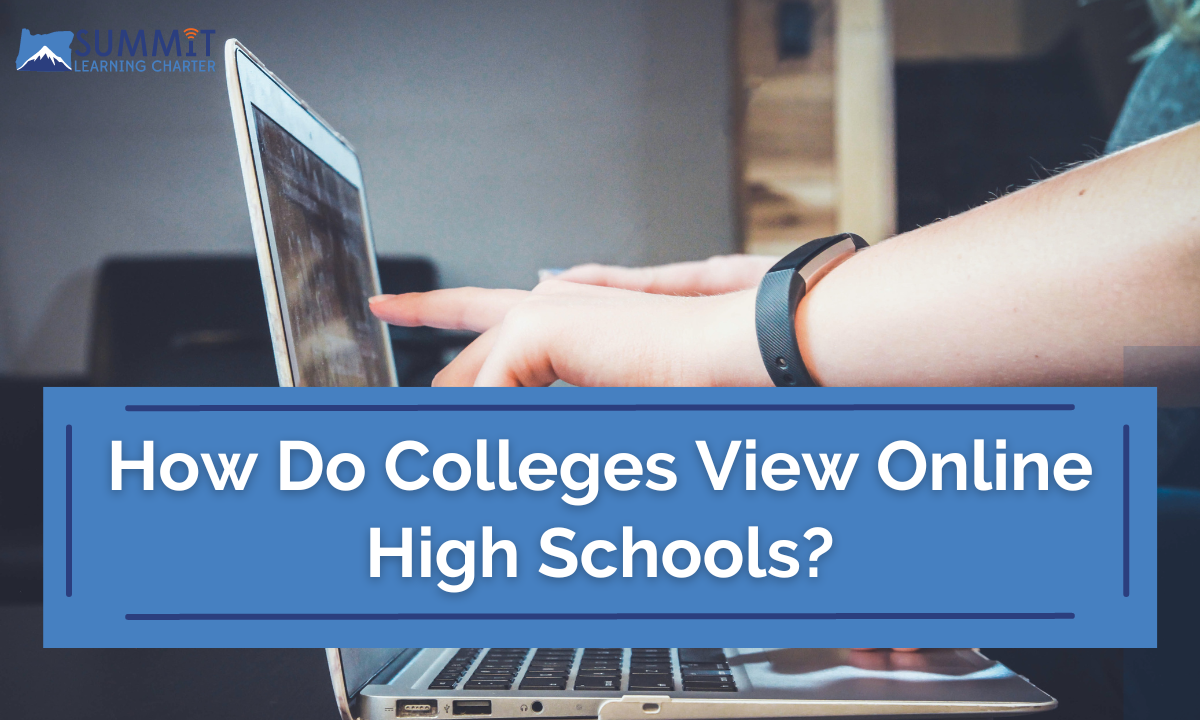 How Do Colleges View Online High Schools? | Summit Learning
There are many benefits to virtual high school. From having extra control over your schedule and curriculum to gaining independent study skills and getting to learn from anywhere, online school has some major advantages for students. 
But many parents and students wonder: how do colleges view online school? What do colleges look for in students, and where does virtual high school fit into the admissions process? In today's day and age, online high school diplomas are seen as a positive to most colleges and universities. Keep reading to learn how you can use your online learning experience as an asset in your college applications.
6 Factors That Colleges Look At for Admissions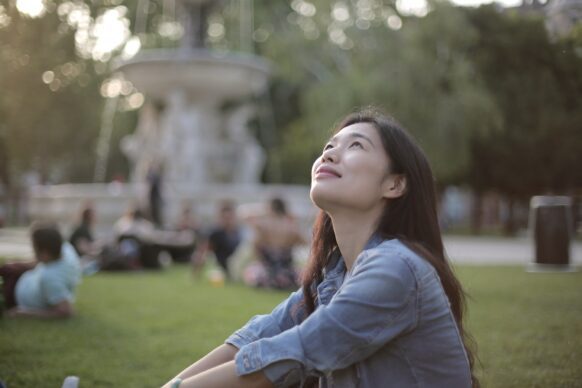 There are a variety of factors that colleges and universities look at during their admissions processes. In general, these factors aren't impacted by whether the student attended a traditional or virtual high school. In fact, in today's evolving labor market and academic environment, experience with online high school courses can be seen as an advantage.
Here are a few of the most important factors that colleges prioritize during admissions, regardless of whether you attend high school online or in person.
1. Accreditations
Colleges invariably prefer students who attended accredited high schools when making admissions decisions. It's one of the most important factors they look at. Public high schools must be registered with a government agency and meet specific educational standards in order to achieve accreditation, while private schools may be accredited by independent organizations. 
If you're looking for an online high school that will look good on college applications, finding one that is accredited is essential.
2. School Reputation & Learning Quality
College admissions departments are concerned with the academic rigor of a student's high school education. Some traditional and online high schools place particular emphasis on college preparedness, which is generally seen as an asset. For example, Summit Learning Charter's early college program allows students to take college courses and acquire credits during high school.
3. Student GPA and SAT/ACT Scores
An applicant's GPA is always an important consideration for admissions officials at colleges and universities. Most institutions also look at students' scores on standardized tests such as the SAT and the ACT. Both traditional and online high schools frequently offer ACT, PSAT, and SAT prep programs to help students prepare for success on these examinations.
4. Extracurricular Opportunities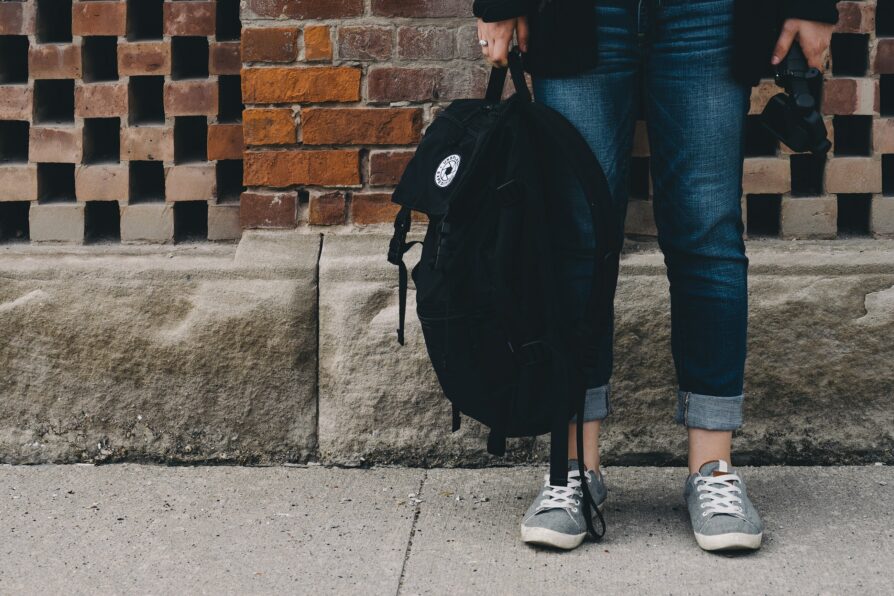 In addition to experience with a robust core curriculum and diverse elective courses, students who take advantage of extracurricular opportunities at their high schools and beyond are highly valued in the college admissions process. Getting involved with leadership opportunities such as student clubs, sports, and internships are all excellent avenues.
5. Application Essays
Many colleges and universities include an application essay as part of the admissions process. This is an important part of your application because it gives you the opportunity to tell your story, express your interest in the particular college to which you're applying, and explain why you'll be an asset to the institution.
6. Letters of Recommendation
Like application essays, letters of recommendation give college admissions officials the opportunity to get a more personal sense of a student's abilities, goals, and dedication to their learning. Letters written by teachers, coaches, and other important people in a student's life that are specific and written with care can go a long way in the admissions process.
How to Use Online High School Experience for College Applications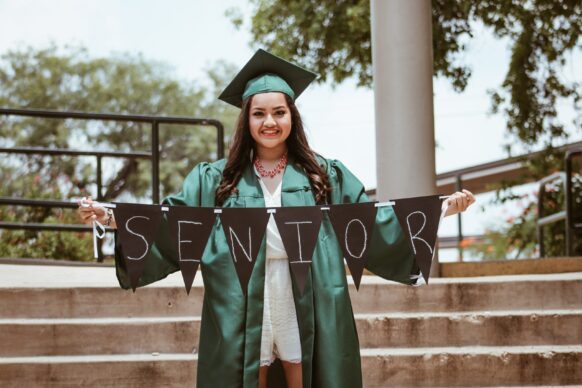 Online high school experience isn't seen as a disadvantage by the vast majority of colleges and universities. The only time it's likely to be seen in a negative light is if the student frames it as a disadvantage themselves. 
Below are some ways you can use your online high school experience in a positive way as you prepare your college applications.
Be Prepared to Explain Why You Switched to Online School
While attending high school online rather than in person isn't a negative thing, it's still seen as a unique choice. It's important that you're prepared to explain why you chose to attend virtual high school when you write your admissions essay as well as during any admissions interviews. 
Be honest about your decision and why you believe attending online school was the right choice for your academic and professional goals. Here are a few positive reasons why many students choose online school:
Flexibility

Independent learning opportunities

Course variety

Career advancement opportunities

Utilization of technology

Personalized education
Proving Social and Academic Readiness
Whether you attend school in person or online, it's essential that you can provide evidence of your social and academic preparedness for college life and college-level learning. Admissions officials generally know that students who succeed in online high school environments are highly organized, self-disciplined, and independent.
Remember that colleges and universities generally aren't concerned with the delivery method (online vs. in person), but with the rigor of your education and your preparedness for college academics. A solid GPA and strong scores on the SAT, ACT, or both go a long way to proving your academic prowess. 
When it comes to social readiness, letters of recommendation, participation in extracurriculars, work or volunteer experience, and a well-written application essay are important factors.
When to Start The College Application Process
In general, it's a good idea to begin the college application process the summer prior to your senior year in high school. That said, there's a lot you can do to prepare during your junior year as well, such as taking the SAT, touring college campuses, getting involved in extracurriculars, and gaining some work or volunteer experience.
It may also be a good idea to seek the guidance of a college counselor and discuss your specific goals, concerns, and plans and get some advice about college admissions and preparedness.
Virtual Learning Sets You Up For College Success
Whether you're just starting your freshman year or approaching the end of your high school career, college is an important consideration for many students and parents. The academic and professional landscape has shifted and evolved substantially in recent years, and more and more families are now choosing online education and virtual high school.
At Summit Learning Charter, our fully accredited, tuition-free virtual academy is designed to give students the opportunity to play an active role in their education and achieve their goals. We work with each student and their family to develop a schedule of core classes, electives, and enrichment opportunities that helps them achieve academic success and succeed in their future goals.
Learn more about academics at SLC and contact us with any questions you may have.